Jobs
IIT Gandhinagar Recruitment 2023 Notification Released, Apply Online at iitgn.ac.in
21 Nov 2023 IIT Gandhinagar has released IT Engineer/ Programmer III Recruitment Notification 2023 Apply Online @iitgn.ac.in. Candidates can check the latest IIT Gandhinagar Recruitment 2023 jobs details at iitgn.ac.in recruitment 2023 page.
by Snekha S | Updated Nov 21, 2023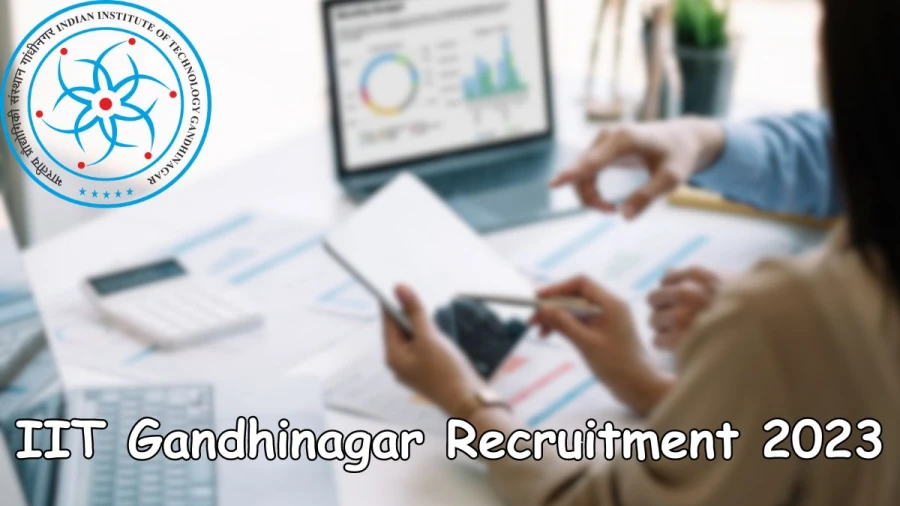 IIT Gandhinagar Recruitment 2023
IIT Gandhinagar is now hiring qualified candidates for the post of IT Engineer/ Programmer III. If you are interested to work in IIT Gandhinagar you can apply online/offline by following the steps given IIT Gandhinagar . But make sure that you are eligible for the particular post before applying for IIT Gandhinagar Recruitment 2023. Each firm will give certain criteria for different posts which the applicant has to meet to get selected, read further to know the criterias based on the qualification, skills, attributes, knowledge and so on.
| | |
| --- | --- |
| Organization | IIT Gandhinagar |
| Post Name | IT Engineer/ Programmer III |
| Total Vacancy | 1 Posts |
| Salary | Rs. 60,000 - 70,000 per month |
| Job Location | Gandhinagar |
| Last Date to Apply | 10/12/2023 |
| Official Website | iitgn.ac.in |
Qualification and Experience
Minimum Qualification: A B.Tech/B.E. degree in Computer Science and Engineering (regular) or Information Technology (regular), or an MCA with a minimum of 65 percent marks is required.
Minimum Experience: Candidates should have a minimum of 7 years of work experience in Full Stack Web Development.
Required Skills
Experienced Full Stack Developer proficient in C#, Core PHP, Laravel 7, Web API, REST API, Windows, and web services.
Demonstrated hands-on expertise in JavaScript, Apache 2 & above, PHP 7 & above (including PHP libraries), and the ability to develop cross-browser frontends using XHTML, HTML5, CSS 3, CSS SCSS, AJAX, JSON, Bootstrap, UI framework (Angular), TypeScript, and integration with 3rd party APIs, including Payment gateways.
Strong understanding of database systems, including MYSQL and MS SQL. Proficient in JavaScript, JQuery, JQuery Widgets, MySQL Server, with skills in writing queries, joins, stored procedures, triggers, and experience in performance optimization. Capable of installing, upgrading, and managing database applications, as well as diagnosing and troubleshooting errors.
Knowledgeable in DevOps and CI/CD tools, with hands-on experience in Github, SVN, MS Visio, and Gantt charts.
Proficient in secure coding principles, security/data compliance, and best practices.
Skilled in managing multiple assignments with excellent interpersonal, communication, negotiation, and collaboration skills.
Additional knowledge in MongoDB, JS frameworks such as AngularJS, Nodejs, Reactjs, and familiarity with Moodle CMS will be considered a plus.
Vacancy Count
There is a single allocation for IT Engineer/Programmer III positions at the Indian Institute of Technology Gandhinagar. This indicates that there is one available seat for individuals interested in the role of IT Engineer/Programmer III at IIT Gandhinagar. Interested candidates are encouraged to review the detailed information provided and submit their applications for consideration in the recruitment process.
Job Responsibilities
Responsible for the installation, configuration, and maintenance of servers based on Linux and Windows platforms.
Full-stack development involvement, encompassing front-end and back-end tasks, along with the creation of databases in .Net/PHP environments.
Meeting all technical requirements and stakeholder expectations. This includes the creation and regular updating of software documentation.
Ensuring cross-platform compatibility and application security, ensuring smooth operation on operating systems such as Windows, MacOS, and Linux.
Mentoring and collaborating with cross-functional teams to identify, triage, and document issues.
Management of critical applications, CRON jobs, and backup procedures through Shell/Python scripting.
Performance tuning and query optimization for database systems.
Designing, developing, creating unit test cases, and deploying desktop and custom web applications.
Implementation of best practices, standards, and procedures, encompassing quality and delivery methodologies.
Handling common database procedures, including upgrades, backups, recovery, migration, etc.
Regular monitoring of scheduled backup activities.
Monthly consolidated pay
The monthly remuneration for this position is in the range of INR 60,000 to INR 70,000. Additionally, House Rent Allowance (HRA) ranging from Rs. 8,000 to Rs. 10,000 per month will be provided, depending on the candidate's qualifications and experience. The total compensation package is structured to reflect and reward the candidate's expertise and qualifications appropriately.
Job Location
IIT Gandhinagar has released notifications regarding available positions for IT Engineer/Programmer III roles in Gandhinagar. Interested candidates are invited to review the location and other relevant details provided here and proceed to submit their applications for the IIT Gandhinagar Recruitment 2023.
Age Limit
The age limit for this position is 40 years as of October 31, 2023. Candidates should ensure that their age does not exceed 40 years by the specified date to be eligible for consideration.
Apply Online Last Date
The deadline for submitting an online application through the official website is December 10, 2023. Interested candidates are advised to complete the application process by this specified date to be considered for the opportunity.
IIT Gandhinagar Official Notification 2023
IIT Gandhinagar Apply Link 2023
How to apply
Prospective candidates are urged to submit their applications online through the following URL: https://recruitment.iitgn.ac.in/projectstaff/.

It is essential to carefully review the provided instructions before completing the online application form, ensuring the accurate and precise input of information regarding your candidature.
Selection Process
Candidates deemed eligible and shortlisted based on their online applications will be required to participate in the selection process organized by IMS IITGN.
The IMS Team will reach out to the shortlisted candidates. The evaluation process includes an assessment test (MCQ) followed by a practical test.
Meeting the "Minimum Qualifications" and "Eligibility" criteria does not guarantee an interview call. Applications received in response to the advertisement will undergo scrutiny, and only candidates shortlisted from valid applicants, based on superior qualifications and relevant experience, will be invited for an online test and/or interview.
The decision of the selection committee established by IITGN is conclusive and binding. No inquiries related to the same will be entertained.
IITGN reserves the right to refrain from calling an applicant for an interview without providing any specific reason.
General Conditions and Instructions
Candidates must be prepared for potential relocation to any designated location/office in India as determined by IIT Gandhinagar.
Age and/or educational qualification relaxations may be considered for exceptionally meritorious candidates, subject to prior approval from IIT Gandhinagar.
The candidate may face rejection at any stage of the recruitment process or post-recruitment/joining if any information provided is false or does not align with the eligibility criteria outlined in the advertisement.
Applicants are required to attach the most recent copy of their Curriculum Vitae (CV), providing comprehensive details about their educational and professional background.
The E-mail ID provided in the online application form should remain valid for at least the next year. No alterations to the E-mail ID will be allowed once entered, and all future correspondence will be conducted via email.
Candidates currently employed with Government Departments, PSUs, Autonomous Bodies, or Educational Institutions must produce a No Objection Certificate (NOC) at the time of the interview; failure to do so will result in disqualification.
IITGN reserves the right to choose not to select any candidate for the specified post(s).
Incomplete applications will be promptly rejected.
No interim correspondence will be entertained, and any form of canvassing will result in automatic disqualification.
IIT Gandhinagar Recruitment 2023 - FAQ
1. Where to apply for IIT Gandhinagar Recruitment 2023?
Candidates who wish to apply for the IIT Gandhinagar Recruitment 2023, can apply using the apply now button available on our website.
2. How to know the eligibility to apply for IIT Gandhinagar Recruitment 2023?
Once the official notification is out, you can check the eligibility criteria and apply for the IIT Gandhinagar Recruitment 2023.
3. Can I Know the Upcoming Jobs in IIT Gandhinagar?
Yes, you can check the current and upcoming jobs of IIT Gandhinagar on our page. For other govt jobs visit our website and get instant job alert notifications.
4. How can I apply for IIT Gandhinagar Recruitment 2023?
The detailed steps to apply for IIT Gandhinagar Recruitment 2023 is given above. Follow the steps and apply before the last date.